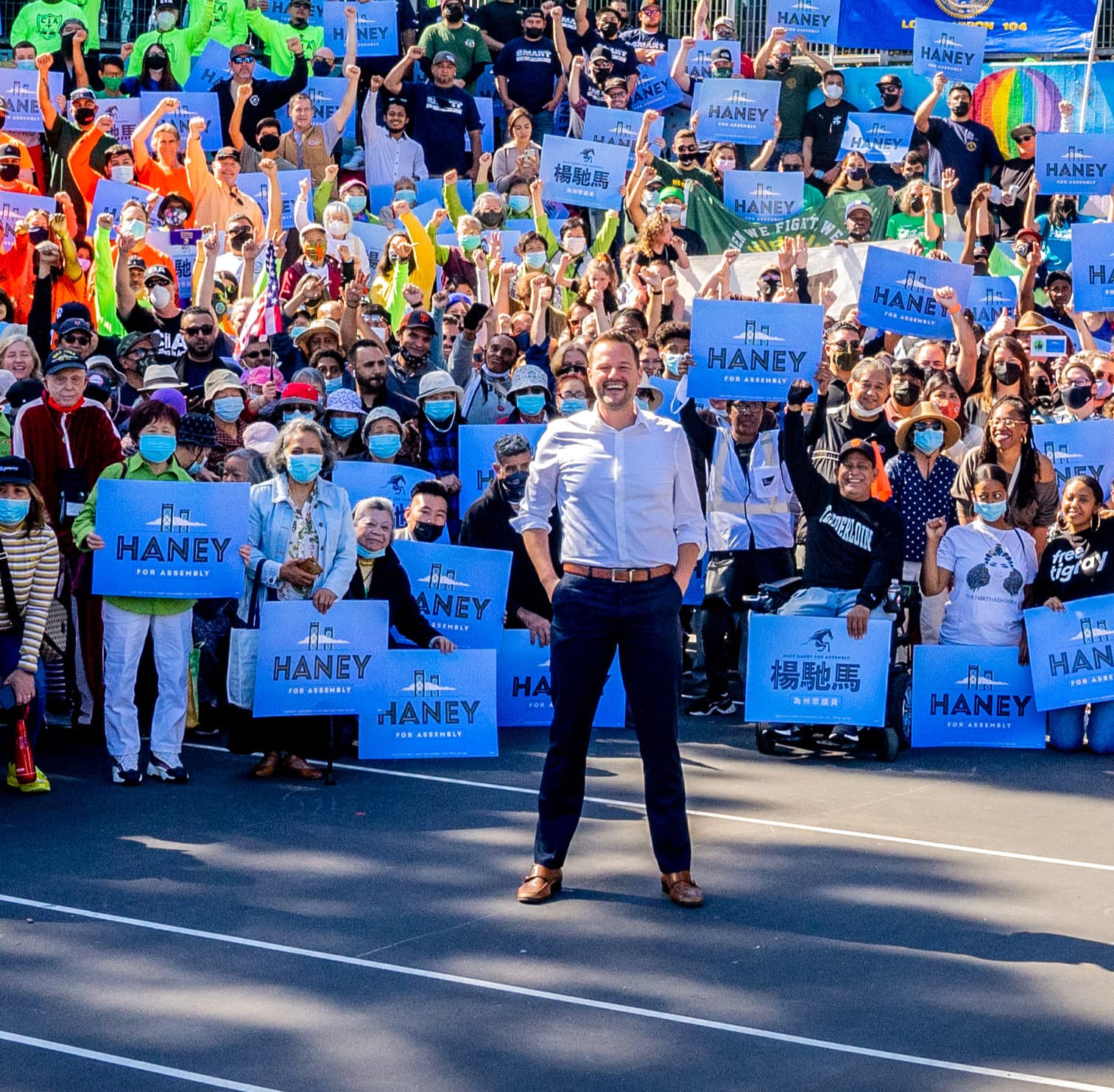 NEWS ARTICLE
New state legislator takes train between SF, Sacramento
Haney, who lives in the city's Tenderloin neighborhood and represented District 6 from 2019 to 2022 on the San Francisco Board of Supervisors, has a solution — the Capitol Corridor train, an Amtrak passenger train that runs between San Jose and Auburn, with stops in Sacramento and Emeryville, on the San Francisco Bay.
NEWS ARTICLE
Listen: Love for S.F.'s Tenderloin District, with Matt Haney
San Francisco Supervisor Matt Haney recently was elected to the California state assembly, after battling a negative campaign that labeled him "the Tenderloin supervisor." He doesn't view it as an insult.
NEWS ARTICLE
Opinion: Matt Haney shows S.F. progressives how to win instead of whine
Haney was simply the better candidate. He campaigned like an old-fashioned San Francisco Democrat. He built the winning coalition. He had a sunnier disposition, glad-handing even his detractors and projecting a positive outlook despite the challenges in his district. And he read the room, focusing his campaign on the housing crisis.
NEWS ARTICLE
Supervisor Matt Haney wins special election for Assembly District 17 seat
San Francisco Supervisor Matt Haney defeated former Supervisor David Campos Tuesday in the runoff to win the 17th Assembly District seat in San Francisco, according to early returns.
PRESS RELEASE
Matt Haney Declares Victory in AD17 Special Election
Tonight Supervisor Matt Haney declared victory in the special election to represent California's 17th Assembly district. As of 10:30 p.m., Haney had earned over 63% of the vote, an outright victory with nearly 62,000 votes counted so far. The mood at Haney's election night party, held at Victory Hall & Parlor, was celebratory as campaign staff, volunteers, supporters, and friends enjoyed live music and congratulated the future Assembly member.
PRESS RELEASE
Mayor London Breed Endorses Matt Haney for Assembly
Mayor Breed praised Matt Haney's leadership as Chair of the Budget and Finance Committee on the San Francisco Board of Supervisors, a role in which he partnered with Mayor Breed to deliver the City's historic $13 billion recovery budget with record investments in housing, public safety, and public services.
PRESS RELEASE
Endorsement: San Francisco needs a housing champion in Assembly District 17
A politically savvy progressive with nuanced views on mental health, criminal justice and transportation, Haney has been a leading voice for compassion on addiction issues in San Francisco and for more public toilets for homeless residents.
PRESS RELEASE
Endorsements from Alice B. Toklas LGBTQ Dem Club & SF Women's Political Committee
If you want to link an external news source, use the "link" icons on the sidebar. Anything linked externally will automatically be listed as "news" and any article you create on the site itself will automatically be listed as a "press release."